The yin: I can now print from my iPhone.
The yang: Google Books is ready to serve up more free ebooks than I could ever hope to read in my lifetime.
I printed something that wasn't a contract to be signed for the first time in months. I did it as a lark. I wanted to see if I could print from my iPhone. Now that I have that working, I was trying to figure out under which situation I would actually do such a thing. I no longer have to print board passes. I meet primarily online. I edit collaboratively as much as possible. The unprofessionally printed page is losing almost all context in my life. But, this is no big surprise. I knew that the printer was waining as a resource for my working life for years. And yet, I am finding myself energized by my zeal for getting rid of it. I find myself more and more excited about "going paperless."
Instead of drawing diagrams on napkins, I get out my iPad and make them hyperlined mind maps. Instead of writing out things on sticky notes or even on the back of my hand, I jot myself a quick email or I just speak into my phone and have it transcribed. It is almost ridiculous just how little I want to do with paper.
I still have yet to read an entire book on a digital device.
I still have yet to find a way of actually taking notes on top of text in a way that makes sense as much as using a pen and literally writing in the margins.
I still can't get over the smell of a bookstore or the feeling of feeling the amount of pages I have left as I try not to look at the clock because I know it is way to late to stay up reading.
I have yet to have a transcendent reading experience in a digital format.
But, I can no longer feel good about printing or writing things out longhand. I no longer can see the notebooks that I used to be so proud of as things that will outlive me. With the sheer amount of information out there, it makes me entirely afraid that no one will ever have the time to go back through the things I have scrawled on paper and make sense of them (least of all me).
Perhaps that is it.
Maybe in the age of permanence and ever-presence, I am so fearful that by putting myself on paper, I am setting myself up to be forgotten. If I don't take digital notes, they don't really exist. If I don't tweet what is going on, it never happened.
I feel like paper is like the Neverland of text. It makes you forget what is real. It lets you transport yourself away from the realities and distractions of all of our digital existence. It is beautiful and unique, but it is fleeting.
Perhaps we are coming to the point in the story of text in which we have to grow up. We can escape from time to time, but printing from the iPhone isn't going to bring back our joyous moments of forgetting responsibility and working on characters that will never see the light of day.
Paper is precious, and I hate it for that.
Related articles
Every time I put my son down for bed, he sees fit to be totally uninterested without a good amount of singing of songs and reapplying blankets. In between each one of these tries at sleep during which he may or may not actually close his eyes, I head over to the bookshelf with all of my old novels on it. As my son considers sleep for the twelfth time, I open up The Great Gatsby or if I'm feeling slightly more ambitious, Plato's Republic. I read through all of the passages that I have highlighted or notated, which is quite a bit.
Each of the stars next to a given paragraph is enough for me to jump right back in to the person that I was when I first read the book. And as my son wakes up and goes back down with severe regularity, I keep on coming back to the fact that I have absolutely no way to retrieve those moments of insight without opening up each one of those volumes and reading that exact underlining, with scribbles that only I would understand.
Every time I stumble upon something that meant a great deal to me in a book I haven't read for years, I feel this pang of regret that I didn't read it on a digital device with syncable notes and sharable annotations. I look at a lot of the works that I read as an english major and how many of them are in the public domain. Each one of those I could have downloaded as an ePub file and opened up on an iPad or Kindle, had they only existed.
I know the intimacy of books is desirable, but sometimes I just wish that I could export those intimate moments and savor them more regularly. I don't want to have the parts of me that I left on those pages get left behind. I want them at my fingertips.
And I know I could use Evernote to scan in or take pictures of those notes, but I really think that misses the point. If I am only copying over the pages that mattered then, there is almost no hope that I will read the entire work again and discover new things about the author and myself. I want the whole context of these notations. I want the whole story of why I starred entire sections. I want to search through and find the threads that bind together all of my braces hanging in the margins like unfinished picture frames ready to be hung in my digital memory.
I believe that this kind of work will happen when I am not responsible for digitizing the content itself, but only the annotations. I mean that all of the books I read as a student must be available in Google Books or some other easily searchable format. Then I want q scanner that only looks in the margins and maps it to a page number and a paragraph.
It would look something like the formula that a good friend of mine wrote in high school for knowing what page number he should be on in his very different version of Jude the Obscure. The class set was larger print, but my friend's copy was an antique. He used his graphing calculator to concoct a formula for going back and forth between his book and ours. It worked flawlessly. I want the same thing for my notes. I want a way to map the words I wrote with the ones that my famous counterparts penned. Only then will I be able to look at the little diagrams I made up in the 9th grade with anything but nostalgia and regret.
If I want my past to live into my ore went I need a way to map it to something living. All of the books on that bookshelf are dead. Without commenting and liking or metadata, those words are not going to assemble themselves into something of value. And I want to find that value again, if for no other reason than to see exacltly who I was and how all of that has changed now that I am reading exerpts wle my son sits in his room, screaming because the door is stuck on the inside.
Because, it has changed, believe me.
Related articles by Zemanta
I have been putting this post off for a while now, but I am finally compelled to write about all of the apps that I am using  on a regular basis on my iPad. I am compelled by just how many conversations I have had about doing more than just consumption with the device. The following list of Apps are what make the iPad essential to me. They are what make it more than just a toy:
Before I go too deep, here are the apps that I have on my iPad right now (While there are a great many Jailbroken apps that I would recommend, I think that it would be somewhat counterproductive to highlight those in this blog post because the vast majority of users are never going to open up their device as I have.):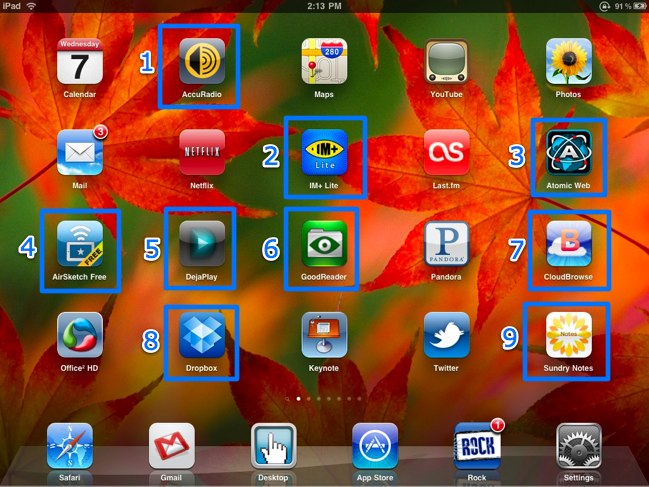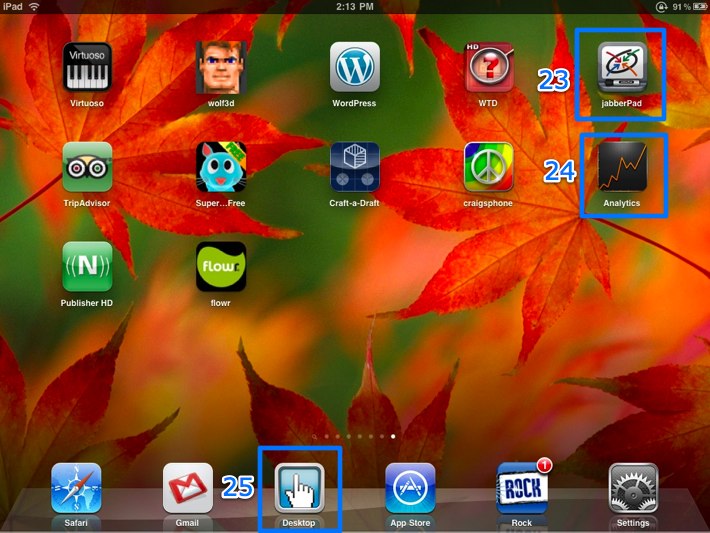 Well, that is it. That is my list of why the iPad matters right now. Again, there are some missing things that I need to Jailbreak my iPad for, but the ones I mentioned above are reason enough to buy and use an iPad and never look back. The iPad is not a device for mass consumption. It is a device like any other, completely dependent upon what you actually want to do with it. I want to create with it, so that is what I do. While not all of the apps above speak specifically to this need to create, they all inspire me to create more and better. Call me a fan boy if you must, but I believe in creating with whatever is available and it just so happens that I have an iPad.
Preparation is something I had to learn. While I have always planned, true preparation has always eluded me. I mean to say that the ability some people have for seeing the way things will work out before they do has never been my gift. I have to play my way through everything and push the boundaries in order to get at what is possible. I have to see which questions get asked and which conversations are essential before it all makes sense.
That is why when streaming three concurrent sessions at a conference with two video feeds and one audio feed each, I new that everything would eventually work out. I knew that there would be a plan b that I could put in place. I just didn't know what that plan b was until I saw it.
Originally we were going to use rented powerful laptops, but we didn't have the right converters for our video feed. Then we were going to use our Boinx TV mixer to give the pictures nice overlays, but our own laptops weren't capable of handling all of the multimedia. We were going to have the audio pumped directly to the mixer but the Ustream broadcaster wasn't having any of it. Ultimately, we had a great stream being pumped out with both the powerpoints and the live video. This is super nerdy and all, but I think that the plan b we came up with was exactly what we wanted in the first place, but it took us a few revisions to get there.
It was the process of finding the plan b that was actually most engaging to me. Knowing that things would work the first time is not interesting to me. It is only through troubleshooting and creating a new solution that I feel valuable. It is about the workaround and the new workflow that everything comes together and I truly learn something.
Which is why I am much more inclined to give my children and the other people that I work with a tool that isn't specificially meant for the task at hand. Perhaps I don't have the right one, but more likely I know that it is the process of figuring out just what the tool can do that will bring about the greatest change.
People say that the iPad isn't a creation device. By making it into one, I am learning more than if I just accept that limitation.
Some say that blogging is dead. By figuring out how to make my writing alive and valuable to me, I am able to find it's relevance.
The conventional wisdom is that boomers aren't interested in a networked workplace (Personal Learning Networks and the like). The plan b is in figuring out where we can go from a place of resistance.
I don't believe that we are ever done planning for the future, and that includes creating a perpetual plan B. I want to make sure that all of my actions are in the creation of the best possible option for what comes next.
We are not creating the first version of the future. Everything is a revision, a second and third and fourth attempt at getting things right. So long as we keep at it, I know that it will be everything that we need. It may not be what we hoped for, envisioned or prepared for. It will be what we deserve and what we work for. It will be our best plan b. I promise.
Related articles by Zemanta
Image by natala007 via Flickr
People have been up in arms since the iPhone came out that it doesn't allow multi-tasking. In fact, I was one of those people with arms outstretched. I couldn't understand why any company as visionary as Apple would want to limit their devices to only doing one thing at a time. At any given moment, I have at least 20 programs running and another 20 tabs open in Chrome. This is the way that I work. It is how I communicate with other easily and how I push the flow of data along. Now though, I am beginning to question whether or not this multi-tasking mania is really good for my creative prospects.
I think I get why Apple has resisted multi-tasking so much on their devices. They wanted each one to provide an experience for their users that was unlike anything else they have seen. They wanted to make sure that each app downloaded would feel as though it were made just for them, and not as some distraction for other distractions from real work. As I have gotten used to working on the iPad, I have realized just how powerful it is that I don't have twitter up while I am writing. I realize just how intriguing answering an e-mail becomes when I'm not distracted by downloads or multiple tabs that keep on redirecting my attention.
On the desktop, I set up tasks in separate programs. I start one and then jump to another while that one loads. I sometimes forget about the first one until I am closing out of things a few hours later. On the iPad, I don't feel that rush. Everything is fast and the apps don't work together at all. Ordinarily, I would be frustrated, but at the moment, I like the fact that I am drawing a vector illustration in one app, taking a screenshot, rotating it a second app, then sending it to my blog with a third. Each task becomes sacred. It becomes more time with the process of making something great. On a desktop, it is all done for you. You don't feel as though you have accomplished something.
And, I want to accomplish something. I want to take my time editing and producing and completely forget that there are other tasks that need to be done. For the moment, there is just one. I will follow it to its logical conclusion and then move on to the next.
It lets my mind be something it doesn't ussually get the chance to be: organized.
It is like the one time that I cleaned my room for real.
I don't think that I am alone in complaining about having to clean up my room. Also don't think I am alone in doing a half-hearted job most of the time because I knew that it was going to get messy again quite soon. I am also willing to wager that I am not alone in having spent one full afternoon really cleaning my room so that I was proud of the result.
I set up action figures in fight scenes on the bookshelves. I put each of my baseball cards into their protective sleeves. I made my bed with special folds at the top that were far to intricate to be accidental. I sorted my books by genre and put the series books into their correct order.
In short, I cleaned that room like it was my job. And, I enjoyed it. I took time with those action figures to make sure that the scenes were believable. I found out new statistics about my favorite ball players. I thought about how many times I had slept in that bed while I folded the top sheet underneath the blanket. And I made mental notes of when I should read those same books again. Each event had its place and I wasn't worried about getting all of it done because I knew that I would eventually create the finished product.
I feel like that is the power of not multi-tasking. That is the power of quiet.
While I need the noise sometimes to do a lot of things quickly, I know that I will never enjoy them as much as if I only were doing one task at a time. So, the iPad may get multi-tasking this fall, but I can tell you that I will never use it to create noise. I will never enable it just so I can devalue each step in the creative process. I will only use it to know more about the one task I am concentrating on right now. On this device, I will set up workflows only to create better work, never more output.
Because for me, output and work are two totally different things. The latter I love because it gives me more purpose. The former I despise because it gives me generic accomplishments and false understanding.

Related articles by Zemanta